IMG KnowledgeBase & Frequently Asked Questions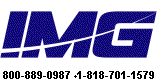 ---
Search FAQ's


Searching for ID: QL0105120439
QL0105120439
How do I license a product?
If you have downloaded a demo, you can purchase a license in various ways. Refer to our Order Page for more details.
If you are having difficulties, refer to our Licensing Technical Support.
Original ID: QL300310
| | | |
| --- | --- | --- |
| Category: Licensing | Type: Question/Answer | Product: General Issue |
---
Notes:
Depending on product, release version, OS version, and specific technical issue, some tech items are very specific, and some may span to other products/versions
Downloadable files can also be accessed by anonymous FTP at ftp://downloads.imgpresents.com
Older files are moved into a separate archive location - see notes/details/new location in *.archived.txt text file
---
---














As seen in ...