IMG KnowledgeBase & Frequently Asked Questions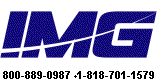 ---
Search FAQ's


Searching for ID: QL0105120438
QL0105120438
How can I find out if my product is licensed?
Refer to the Program Group for the product, and select the "Licensing Information" icon. The IMG License Manager will either indicate it is Licensed & Registered, or will indicate it is in a demo mode.
Original ID: QL300309
| | | |
| --- | --- | --- |
| Category: Licensing | Type: Question/Answer | Product: General Issue |
---
Notes:
Depending on product, release version, OS version, and specific technical issue, some tech items are very specific, and some may span to other products/versions
Downloadable files can also be accessed by anonymous FTP at ftp://downloads.imgpresents.com
Older files are moved into a separate archive location - see notes/details/new location in *.archived.txt text file
---
---














As seen in ...