IMG KnowledgeBase & Frequently Asked Questions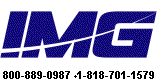 ---
Search FAQ's


Searching for ID: PU2109120619
PU2109120619
I can't access The Magnifier Menu in Windows 7
In Windows 7, Microsoft changed the approach for the tray icons, so that by default, they won't be visible. When The Magnifier is in Full Screen mode, there are 2 options available to access the menu easily.
1. Configure the Tray Icon for The Magnifier to be shown. When hidden, there is an up-arrow type symbol (triangle pointing up) that will show "hidden" icons. When you click on this, you can customize the hidden icons, and you can change The Magnifier's icon from Show Notifications Only, to Show Icon and Notifications.
2. While using The Magnifier, toggle out of full screen mode (Alt-Z), then right-click on The Magnifier window to access the menu. Once you have configured as desired, return to Full Screen mode (Alt-Z). You can also use the Toolbar to toggle in and out of the Full Screen mode. When The Magnifier is in the window mode, you can access the menu with a right-click. You can also return to Full Screen by double-clicking on the windowed Magnifier.
| | | | |
| --- | --- | --- | --- |
| Category: Using | Type: Problem/Resolution | Product: The Magnifier | Version: 1.50 |
---
Notes:
Depending on product, release version, OS version, and specific technical issue, some tech items are very specific, and some may span to other products/versions
Downloadable files can also be accessed by anonymous FTP at ftp://downloads.imgpresents.com
Older files are moved into a separate archive location - see notes/details/new location in *.archived.txt text file
---
---