IMG KnowledgeBase & Frequently Asked Questions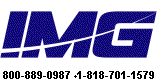 ---
Search FAQ's


Searching for ID: IL0114120721
IL0114120721
The License Key displayed in the "This is a Licensed and Registered version." display does not match my Certificate of Authenticity
The IMG License Manager has multiple sources for validating licenses. Typically the Serial Number and License key displayed are embedded in the LICENSE.LIC file, and for a normal install, followed by a license entering the License Key and Serial Number from the Certificate of Authenticity, the Licensed display will indicate the certificate values.

Important Note: There are an infinite number of valid license keys for any serial number due to various algorithms used to validate the license and what criteria is used for a specific system. There are also overrides and fall-back options used internally, so it is not a cause for concern if the displayed license key does not match the certificate license key - as long as you see the "This is a Licensed and Registered version". Also note that only releases post 1.78 Release 3 (and other products circa 2009) actually displayed a license key. The display is informational only, it is not a critical aspect of the license - the license is based on LICENSE.LIC, and often multiple keys are used (e.g. to lock to the hard drive and ethernet Mac ID). The specific key shown will typically be the Certificate key, but it is not a requirement of the software.

If the Serial Number does match the certificate, but the License Key does not, yet that is what you wish, attempt the following:


Manually copy \Program Files\[PRODUCT DIRECTORY]\LICENSE.ORG to \Program Files\[PRODUCT DIRECTORY]\LICENSE.LIC.
As an Administrator, Run LICENSE.EXE (Licensing Information Icon)
Enter License Key and Serial Number and some text in Customer, then Finish & verify license
Re-Run LICENSE.EXE (Licensing Information Icon) and verify display

Check overrides - delete any 4 character entry in registry at [HKEY_LOCAL_MACHINE]\Software\Innovation Management Group\Windows, e.g. T178=pddQRmEEEEEE::0tTyYQwWeE - these could be from an evaluation license and may affect display.
Verify you are not running the software from a USB - the USB based license will not act like a system based license.
Verify there is not a section in LICENSE.LIC with a [License] Key=ABCD12340987 entry (it is recommended to use steps above to revert to original license file).
Verify you are installing and working with software from an IMG Product Disc or downloaded from imgpresents.com - there are custom, OEM, and special releases that may act differently due to special use cases.

If the display is a requirement, refer to the IMG Software Check utility http://www.imgpresents.com/imgfaq.htm?keyword=PI0113120711 and run to clear off all IMG software. Then perform an install from a known valid retail version of the Product and Version matching your certificate. Install and license using Certificate Keys.
| | | |
| --- | --- | --- |
| Category: Licensing | Type: Information | Product: General Issue |
---
Notes:
Depending on product, release version, OS version, and specific technical issue, some tech items are very specific, and some may span to other products/versions
Downloadable files can also be accessed by anonymous FTP at ftp://downloads.imgpresents.com
Older files are moved into a separate archive location - see notes/details/new location in *.archived.txt text file
---
---














As seen in ...