IMG KnowledgeBase & Frequently Asked Questions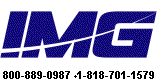 ---
Search FAQ's


Searching for ID: ID2012120679
ID2012120679
Working with Linux run-time, need developer's kit utilities (Move Window, Save Position, Close, Minimize, Open, Typefile)
Note: Recent My-T-Soft for Linux Downloads have the Dev Kit zipped in the my-t-soft folder

Download Developer's Kit folder files for Linux devkitlinux.tar.gz (1.42MB) (MD5: AF2627FC459E1C8D8E6B8ACCB14B1827)

The archive has a 32-bit build and a 64-bit build (x86/x86_64)
Files do not need to be in same directory as My-T-Soft (mytsoft), but it is recommended. The download expands into devkitlinux directory. After download, use the following:

tar zxf devkitlinux.tar.gz[Enter]
cd devkitlinux[Enter]
cd x86 (or x86_64)[Enter]
Copy to My-T-Soft directory with cp * /[location_of_mytsoft][Enter]

See README.txt for more details.

Contains:
README.txt
closemts
movewmts
svposmts
minmzmts
open_mts
typefile
fontlist

Important Note:
The typefile macro file must not contain line feed/carriage return or other control characters, or the macrobat process will stop and not properly exit. For "new lines" to be typed, use the [Enter] macro command - the actual macro in the file must be a continuous string of text characters - formatting using tabs, carriage returns/line feeds, etc. will cause issues. Refer to the Strip and other options in the Build-A-Board builder, Key Properties | Key Action | ... | Macro Builder | Options button for a way to build a macro where formatted text swaps out embedded control characters with the corresponding macro command ([Tab], [Enter]).

---
Notes:
Depending on product, release version, OS version, and specific technical issue, some tech items are very specific, and some may span to other products/versions
Downloadable files can also be accessed by anonymous FTP at ftp://downloads.imgpresents.com
Older files are moved into a separate archive location - see notes/details/new location in *.archived.txt text file
---
---














As seen in ...