Features
Seamless operation from Mouse, Trackball, Touchscreen, Pen, or any other pointing device

Microsoft Windows 2000 / XP / Vista / 7 Compatible

Options for interfacing with specialty and assistive technology pointing devices

CrossScanner Support - includes tight integration with OnScreen and cooperative operational features

Key Magnifier option - 3 sizes available, enlarges key for easier identification

Key Highlight option - visual indication of key pointed to

AutoScroll - for larger sizes (larger than screen) automatic scroll into view

Scroll Control window for CrossScanner / Touchscreen users

TurnAway add-on for Head Mouse users

Text-To-Speech (Windows 98/Me/NT/2000/XP) Option

Text-To-Speech - audio feedback of key pointed to, with Repeat option

Text-To-Speech - Speak word typed upon WordCompletion

Text-To-Speech - Setup & Speak window - echo what has been typed

Word List options - Now supports whole sentences and spaces between words

Word List options - International Word lists

Word List options - Manage & Save Word Lists

Word List options - Read in and process external documents & files to add to current Word List

Keyboard Scanning - operate OnScreen with CrossScanner entirely from a single switch (mouse button (left-click))

Keyboard Scanning - Complete customizable approach for panels, rows/columns, and keys

Workstation / Network Logon Options

Developer Tool Kit and Extensions

Developer examples of integrating into existing applications

Show & Hide Keys

Selectable Sizes

Realistic 3D graphics

Infinite Sizing

Support for Build-A-Board layouts - completely customizable user interface

11 panels, individually selectable, or create your own with Build-A-Board

Great for editing - Quick & Easy!

Special Windows Short-cut Keyboard - Power Users Dream!

101 & 104 key layouts

Multiple Keyboard Layouts with ABC Layout for Non-Typists

International support - numerous keyboard layouts from around the world

Create Macro Keys & Panels

Specific Key & Key Combination Enable / Disable

Attach Executable programs to Keys & Key Combos or Window Activation

Includes the Calculator with Calculator Tape & Send Feature

Time & Date Display

Memory, Disk Space, Resources status Display

Completely Configurable for all of your needs

Color-code Panels for easy identification

On-line Quick Help for First-Time Users

Minimizes to a Button for convenient access

Once you use it, you won't want to live without it!

Keyboard not required (Just Say No... to your Keyboard.)

End-user and Developer Support
Features in OnScreen with CrossScanner!
New Features

Support for Windows 7 / Vista
Workstation / Network Logon Options - Windows 7 / Vista
New configurable location options for users - private or shared
Even more layouts, now over 200 keyboards providing worldwide coverage
Ability to run Build-A-Board layouts
LetterAssist

Letters on keyboard integrated with WordComplete candidates

WC-Assist

WordComplete Assist - Shortcut options to WordComplete candidates for less mouse movement

Word Prediction

Word List Sort options
Word List Assistant

International Word Lists
Read in external files, add to user's Word Lists
Manage & save word lists
Visual Enhancements

Zoom Key - Magnify key pointed at, 3 sizes
Highlight key - invert key pointed at for additional feedback, visual enhancement
Infinite sizes - for high resolution displays
3D keys
Autoscroll options

automatic scroll into view with mouse
Scroll Control window for CrossScanner / Touchscreen users

Transparency in Windows 2000 / XP

Sounds

Text-To-Speech

Audio feedback of key pointed to
Repeat option
Speak word typed (upon Word Completion)
Setup & Speak

Select Voice & rate of speech
Type text and Speak what has been typed

Keyboards

Ability to remap keys & key functions
Font selection

Add-ons

Turnaway - for head mouse users
Windows 2000 / XP logon module, Windows 7 / Vista logon module (option to display keyboard at logon)

Existing Key Features in OnScreen

Basic & Advanced modes of operation
Adaptive Word Prediction / Word Completion with user editable word lists
Helpful options - automatic u after Q, auto capitalize I, auto capitalization & spacing after punctuations, suffixes, etc.
Automatic Arrange & screen positioning of windows for ideal usage of screen real-estate
Keystroke dwell capability
Programmable keystroke macros
Windows control panel
Audio feedback
Word Prediction, Adaptive Word Completion
With the WordComplete / Action panel open, as you begin to type, a frequency sorted list of words is presented to the user. If more letters are typed, the choices reflect the new list of candidates. A single click of the word will complete the word in the document or e-mail being typed into. Undo becomes available, and the word's frequency count is incremented. If a new word is typed, the word is added into the user's Word Lists. Auto-spacing, auto-capitalization, suffixes, and other WordComplete features can greatly increase the typing speed and accuracy of the user!
CrossScanner - A comprehensive single switch approach to Windows operation
With over 14 years of development & user feedback, CrossScanner contains a wealth of features and options to address actual user's needs! Mouse, Keyboard, and Joystick input options allow just about every switch interface to integrate with CrossScanner. Features like acceleration through the IconWindow, toggle FingerScan direction, Speed controls, Scan Area settings, Active Window Scan, and numerous other options provide a simple and/or sophisticated approach to controlling all aspects of Windows via just a single switch. CrossScanner was created by RJ Cooper, and is developed and maintained by IMG. CrossScanner is available through IMG under license agreement.
Over 200 "Heads-Up Display" Keyboards in 12 base sizes and infinitely larger sizes
ABCD Alphabetical, QWERTY, 3 DVORAK's, and International (German, Spanish, French, Greek, Hebrew, Arabic, Russian, etc.) with Edit and Numeric panels.
Minimize Keystrokes, Mouse Clicks and Menu Selections
Store up to 2000 keystrokes/menu selections (or the applications macro scripts) on each button. Up to 15 buttons can be grouped on individual Panels, which auto-open when their assigned application becomes active.
OnScreen Windows Control Panel 1 & Web Macro Panel Open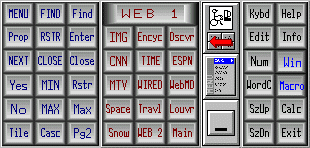 Assignable Functions for Pointing Device Buttons
Assign any of 63 different functions to each button. Popular keys such as Shift, Esc, Enter, Ins, Ctrl, etc, can be assigned at anytime
Pop-Up Calculator with pop-up Tape and Send Function
A standard 4 function calculator with memory, that always stays on top, has its own pop-up Tape and Send function that places the display information right into your current document or field.
OnScreen has over 150 functions on 11 sliding panels in 12 base screen sizes with infinite larger sizes. Any panel grouping can be selected at any time. It remains active as a Button on the active application.
CrossScanner has a comprehensive Setup application to provide control of all features & options.
Technical Information
OnScreen with CrossScanner is a standard Windows Application and does not require any special drivers, and should work with all pointing device (mouse, touchscreen, pen, HID, etc.) interfaces, along with keyboard and mouse emulation drivers that are compatible with the ones that ship with Microsoft Windows.
There are countless of configuration options, settings, and special features available that have been added by customer requests since the original product release in 1994. Refer to the User's Guide for release specific technical notes, product options, and complete documentation.
Order
OnScreen with CrossScanner Suggested Retail Price is US $299.95.
Windows 7 / Vista / XP / 2000
Catalog #: 11121