JAMBox Technical Support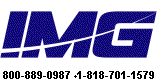 ---
This is an obsolete product! For Jawbone/JAMBOX please refine your search
---
Because of the wide-spread acceptance of USB & serial joysticks, as of August 1, 2000, IMG no longer sells the JAMBox. For a somewhat similar solution to the JAMBox, see RJ Cooper's SAM-Joystick at www.rjcooper.com.
---
There are no known compatibility issues with analog joysticks.
---
With digital joysticks and non-standard gameport type joysticks & devices, there may be incompatibilities that will prevent the JAMBox from performing its intended function. Below is a guide to do some basic troubleshooting.
Step (1) With JAMBox disconnected and your joystick/gamepad connected to the PC, use Control Panel and open (Joystick, or Game Controllers) icon. Verify your device is present.

If it is present, use Advanced Tab, and verify it is on Controller ID 1. Then return to the General tab, highlight controller, and click on Properties - use Test tab and test your Joystick device operation & buttons. Hint: You may need to calibrate / re-calibrate to ensure proper operation at this point.
If it is not present, consult the manual / CD / Floppy disk that came with the joystick device, and follow instructions. Do NOT Proceed with JAMBox installation until you can test & operate your device in Control Panel!

Step (2) Now connect JAMBox, but DO NOT plug in any switches - JAMBox chains between the game controller port on your PC and the actual Joystick device / Game controller. From Control Panel, verify Joystick operation as in step 1. If there is a problem at this point, verify NO SWITCHES are connected to the front of JAMBox and verify plugs are properly connected and firmly pushed in.
Step (3) Now plug in a switch to Button 1 and test in Control Panel. If you experience difficulties, then the joystick device is NOT compatible with JAMBox.

What "Digital" joysticks do to cause problems with JAMBox

There are 4 range (axis) inputs and 4 binary switch inputs on the standard gameport. Analog joysticks typically use 2 buttons, but can use 1, or 3, or 4 buttons directly via the gameport. The original design was for 2 "2-axis, 2-button" joysticks (so 2 people could play a game on the PC).
Due to the nature of binary logic, 4 bits (binary switches) can be polled to create 16 possible combinations. "Digital" joysticks use this property to add more than 4 buttons to a single joystick. Since they typically use their own driver, they cease to follow the standards of the gameport interface, and are NOT compatible with the original specifications of an open & closed switch (that JAMBox interfaces via the gameport).

What can you do?

It is possible that some combination of switches may work - this is solely dependent on the design of the joystick. Test various combinations within the "Test" area of Control Panel to see if a usable configuration is possible.
Try using the Standard Gameport driver (under manufacturer Microsoft) to a 2-axis, 2-button joystick controller (General, Add button) and test with joystick - if this generic driver does not work, then you are using a device that is NOT compatible with the gameport and hence, not compatible with JAMBox.
Use an analog joystick - most of the advanced joysticks are not ideal for users that need switch capability.
If all you need are the switch capabilities, you can connect a 50k-ohm resistor between pins 1-3 and pins 1-6 to look like a centered joystick using the Standard Gameport driver
---
---














As seen in ...