IMG KnowledgeBase & Frequently Asked Questions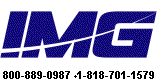 ---
Search FAQ's


QC2512120691
What is the IMG AT Accessibility Suite?
The AT Suite includes IMG's best-selling computer access utilities: My-T-Mouse, OnScreen, CrossScanner, Joystick-To-Mouse, The Magnifier, SmartClick, TouchRight Utilities, and WordComplete. Grouped together as a the ultimate set of general purpose, Assistive Technology Pointing Device Enhancement Utilities, the IMG AT Accessibility Suite provides an easy to install and administer set of tools which is licensed with individual, school, site, or multi-site options.
---
Notes:
Depending on product, release version, OS version, and specific technical issue, some tech items are very specific, and some may span to other products/versions
Downloadable files can also be accessed by anonymous FTP at ftp://downloads.imgpresents.com
Older files are moved into a separate archive location - see notes/details/new location in *.archived.txt text file
---
---














As seen in ...